Screen Printing Process


Full Colour Digital Print


Other Products


Brochures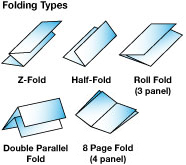 A brochure is a flyer or a small booklet (pamphlet) that contains promotions, services, product or other advertising information.
For brochure printing we use bright 100lb Glossy Text Stock (UV or Matte Finish are optional). We provide full colour digital print (CMYK process) on one or two sides of a brochure.
There are the following brochure sizes available: 8.5" x11", 8.5" x 14", 11" x 17", 17"x 22", 11"x 25.5"
There are the following brochure folding types available: 8.5"x11", 8.5"x14", 11" x 17",- Half fold, Z-fold (accordion), Roll (letter) or Double Parallel fold 17"X22" - Fold 8 page fold 11"x25.5" - 3 panel roll fold. Brochure folding is included in the price. (Brochure bundling is optional).
Production time: 3-5 business days depending on numbers of brochures you are ordering.
| | | | | | | | | | | |
| --- | --- | --- | --- | --- | --- | --- | --- | --- | --- | --- |
| | 25 | 50 | 75 | 100 | 250 | 500 | 750 | 1000 | 2500 | 5000 |
| 8.5"x11" | $54 | $63 | $72 | $81 | $105 | $135 | $145 | $150 | $210 | $265 |
| 8.5"x14" | $58 | $71 | $84 | $95 | $155 | $200 | $220 | $235 | $315 | $415 |
| 9"x12" | $58 | $71 | $84 | $98 | $130 | $185 | $235 | $250 | $365 | $430 |
| 11"x 17" | $58 | $71 | $84 | $96 | $165 | $265 | $320 | $355 | $480 | $635 |
| 17"x22" | $775 | $825 | $880 | $910 | $975 | $1050 | $1120 | $1170 | $1410 | $1590 |
| 11"x25.5" | $775 | $825 | $875 | $925 | $980 | $1045 | $1100 | $1150 | $1340 | $1620 |
| | | | | | | | | | | |
| --- | --- | --- | --- | --- | --- | --- | --- | --- | --- | --- |
| | 7500 | 10000 | 15000 | 20000 | 25000 | 30000 | 35000 | 40000 | 45000 | 50000 |
| 8.5"x11" | $385 | $510 | $775 | $985 | $1270 | $1560 | $1840 | $2040 | $2250 | $2490 |
| 8.5"x14" | $680 | $790 | $1060 | $1390 | $1720 | $2040 | $2360 | $2620 | $2930 | $3240 |
| 9"x12" | $695 | $850 | $1210 | $1580 | $1830 | $2040 | $2320 | $2540 | $2810 | $3090 |
| 11"x 17" | $960 | $1200 | $1650 | $2090 | $2530 | $2930 | $3330 | $3650 | $4130 | $4710 |
| 17"x22" | $2180 | $2340 | $2990 | $3640 | $4460 | $5240 | $6020 | $6810 | $7590 | $8670 |
| 11"x25.5" | $1730 | $2170 | $2740 | $3100 | $3560 | $4170 | $4770 | $5370 | $5980 | $6880 |