Screen Printing Process


Full Colour Digital Print


Other Products


Most Popular Fonts
For House Addresses: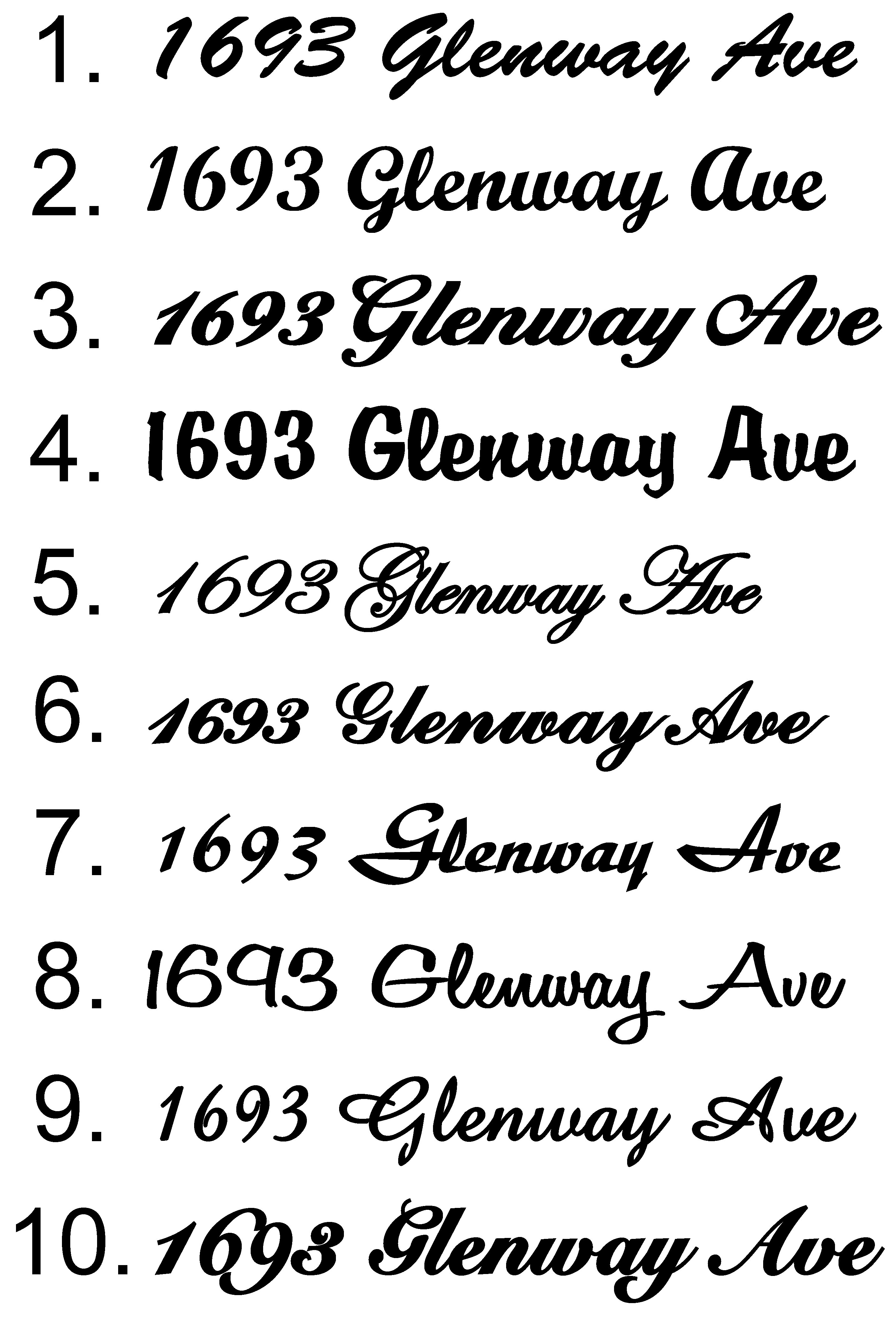 Letter Section: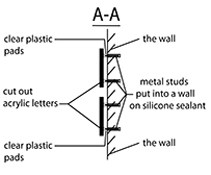 Custom House Address / Cutout Street Address / Acrylic House Numbers
Make your house front outstanding with custom cutout acrylic House Numbers & Address.
Your house will look differently with these letters.
Black acrylic letter set is $300 including design and installation in Maple region (Vaughan), Ontario. We install house address in GTA and surrounding areas. For a quote for a house address set with installation please Contact Us
A house letter set without installation is $200.00 (fully prepared for installation).
The prices above are calculated for the maximum letter size 100"(w) x 10"(h). We use high precision laser cutter to cut out characters out of 1/4in thick acrylic sheet.
Custom sizes are available. Please contact us for a quote.

We can cutout not only letters and digits but any acrylic images (logos, birds, animals etc). Such a custom cutout image won't increase the price if the letter set is not bigger of the maximum size 100"x10".
Let us know the text you want us to cut out and approximate signage dimensions and we'll send you a few different font options to let you choose the font you like the most.
It's a good idea to send us a wall photo where you are planning to install an address. We can place the image of your house address on this photo to let you see how the house address would look like on the wall. Just make sure, when taking a photo, to take a shot at a straight angle. If the photo is skewed, we won't be able to place the house address design on such a wall image. Also we'll check your wall photo to see if there is enough space for the house address.
These letters are weatherproof and stay on as long as you want them to. Usually we use black or white acrylic. Also we can apply any colour vinyl on the top of plastic characters and such a house address looks even more outstanding than just black or white colour sign. This option is about 20% more expensive and the price depends on a price of vinyl you choose. For example silver or gold film on the letter top makes letters look like metal characters.
We use clear plastic pads on letter backs to make letters stand out of the wall (about ¼in) so it gives a letter set 3D impression.
Production time for a house letter set is 2 business days. If you require house address installation, we need to schedule the installation day and time with one of our installers which takes 1-2 business days extra.
We require 50% down payment to start working on a house address set. We accept credit cards (VISA & Master Cards), PayPal payments, cheques, e-transfers or direct payments from your bank account to our bank account.
If you have further questions, please see below Frequently Asked Questions or Contact Us
Frequently Asked Questions:
A: Don't remove blue film from the front of acrylic letters. The film protects the front letter surface from scratches during installation.
A bit should be about 3mm dia; just the same diameter as a stud or slightly bigger. First you place a coroplast template on a wall then drill holes through the marks on the coroplast.
Then remove the coroplast template from the wall.
Screw metal studs into plastic washers at the back of house letters and try to install all the parts in the holes first without silicone to check if they fit the holes.
Apply silicone to studs of the parts you are going to install and install the house letter set. Silicone will dry out in few hours.
When done, please send me a photo of your address installed on a wall.
A: We make custom signs only. If you want to place an order for custom house numbers, please let us know what characters you want us to cutout and we'll provide a quote.
A: A house address set consists of the letters themselves, metal studs (pins) and a template with a printed letter pattern with marks for studs.
Regular stud length is 2in. I can make studs up to 5in.
Siding structures are different and I don't know what kind of siding you have. You have to figure out yourself what stud length works with your siding.
Alternatively I can provide double side adhesive tape for outdoor usage instead of plastic spacers at the back of the letters. This tape holds an acrylic cutout letters without any problem but you need to install such a sign when outdoor temperature is above 5-7C. If you are planning to install the house address in a winter time, it's possible to warm the installed letters on a wall with a heater gun but be careful; acrylic is plastic and easily can start melting if you apply too much of heat.