Screen Printing Process


Full Colour Digital Print


Other Products


T-shirts with screen printed image
Qty
T-shirt Color
24
12
6
1 Color
2 Color
1 Color
2 Color
1 Color
2 Color
White Color
Sizes: S, M, L *
$8.50
$11.00
$13.00
$16.00
$22.00
$28.00
Light Color
Sizes: S, M, L *
$9.50
$12.00
$14.00
$17.00
$23.00
$29.00
Intense & Dark
Sizes: S, M, L *
$11.00
$14.00
$16.00
$19.00
$25.00
$30.00
The max image size is 8.5" x 11".

Ordering different T-shirt sizes doesn't affect the price as long as the image (and the image size and color) stays the same.

For second side print (same artwork, same color) additional fee of $2.00/T-shirt applies (for each color).

* For XL, XXL, XXXL additional fee of $1.50/T-Shirt applies.

For printing we use quality and well known brand name T-shirts Gildan and Alstyle.

Please contact us for a quote if you need more than 24pcs T-shirts.

Screen printing is a very common method of printing on t-shirts for a business, an event or everyday usage. We use only the finest quality inks, which will ensure vibrant colour and will not crack, chip or fade. The process has been perfected to last as long as possible. Even after hundreds of washes, screen printed shirts will not lose their appeal.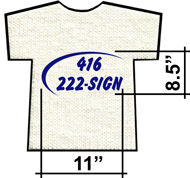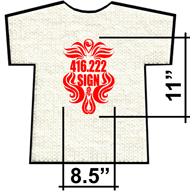 Serene Green 04C

Lime 12C

Avocado 195C

Safety Green 188C

Sky 187C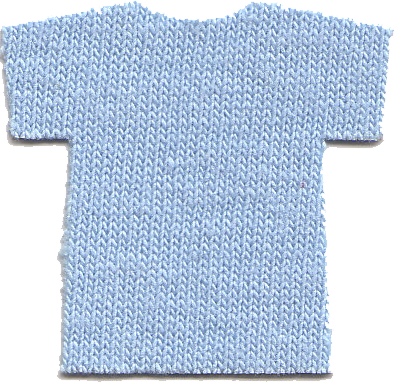 Light Blue 69C

Ash Grey 93H

Gold 24C

Honey 189C

Natural 31N

Safety Orange 193C

Salmon 196C

Intense and Dark Color T-shirts


Forest Green 33C

Military Green 106C

Kelly Green 17C

Irish Green 167C

Kiwi 186C

Sapphire 26C

Royal 51C

Carolina Blue 109C

Navy 32C

Indigo Blue 80C

Heather Indigo 173C

Metro Blue 78C

Iris 56C

Blue Dusk 106C

Black 36C

Dark Chocolate 105C

Orange37C

Red 40C