Screen Printing Process


Full Colour Digital Print


Other Products


Yard Signs
Lawn signs, also known as yard, bandit, poly, plastic and bag signs, are effective, fast and inexpensive advertising. Yard signs are the best solution for promoting your business, service, political campaigns, fundraiser advertising or events. For the most businesses this advertising works much better (and cost less!!!) than magazines, newspapers, radio or TV commercials.
Currently we have 4 different bag sizes. The standard bag size is 24"(w) x 20"(h). It's a thick polyethylene white or yellow bag with dark (black or dark grey) layer inside a bag. You can't see through the bag on a sunny day and that's why your message is easy to read.
The yard sign price includes ¼" thick 36" x 24" U-shape durable excellent quality metal frames (wires). They won't bend in your hands when you push them into the ground. If you try to put on a yard sign with a thin bad quality wire, you'll just waste your time and energy and won't get the result. Using our frames you can put on a yard sign on any ground spot you choose.
Previously coroplast yard signs were very popular in political events and campaigns. Nowadays yard bag signs (the same 24x20 size) are less expensive than the same size coroplast signs with print on both sides. Besides H-wires (Step Stakes) are thinner than U-wires for bag signs and H-wires bend easily under the strong wind. You can see coroplast yard signs laying on the grass when strong wind blows. They just bend! Usually it doesn't happen with yard bag signs if you push a wire frame 7" deep into the ground (max depth for 30"x10" Step Stakes).
We use screen printing process in the making of yard signs. Due to the nature of this type of print, the most cost efficient option to choose is a minimum of 100 bag signs with one color print. This is because when making yard signs we make a screen; materials for a sign are very inexpensive but the screen itself isn't cheap. The screen is much like a stencil which blocks out the paint. So in order to print multiple colors, we need to make several screens. A big portion of the signs' prices come from the cost of the screen, so when you order more plastic signs, each individual yard sign becomes cheaper.
Coroplast Post Signs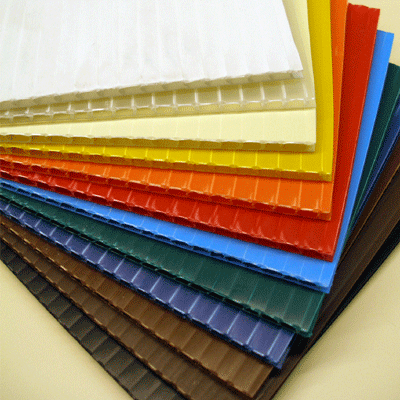 Coroplast Sign is another good advertising option! Usage of a coroplast sign is different from a bag sign usage because you place these signs in different spots. Yard signs are usually placed on the ground and post signs are on traffic poles, posts, fences, walls etc. But the result is the same - successful!!! You target local clients in a specific area and interested people call you the same minute you put on a sign.
It's hard to say what signs work better - yard signs or post signs. White or yellow bags on green grass are more visible + usually the bag size is bigger than a coroplast sheet. Check our Visibility Chart to choose a sign size. But according to our experience post signs usually stay on traffic poles longer than yard signs along roads. Post signs are not in the way of city workers when they cut the grass.
You should try both methods to decide what is better and more convenient for your business.
We have many sign sizes to choose from. The most popular post sign size is 16"x12" because it's the most economical advertising option. Usually, when our customers use 16"x12" coroplast post signs with 1 colour print on 1 side, they easily cover their expenses and get profit. These signs work well and they are in a great demand nowadays.
Character Visibility Chart
While choosing a design for your sign please consider our Letter Visibility and Clarity Chart below:
Letter Clarity
Character/Letter Height
Optimal Distance
Max Distance
3" (8 cm)
30' (9 m)
100' (30 m)
4" (10 cm)
40' (12 m)
100' (46 m)
6" (15 cm)
60' (18 m)
200' (61 m)
8" (20 cm)
80' (24 m)
350' (107 m)
9" (23 cm)
90' (27 m)
400' (122 m)
10" (25 cm)
100' (30 m)
450' (137 m)
12" (30 cm)
120' (36 m)
525' (160 m)
15" (38 cm)
150' (46 m)
630' (192 m)
18" (46 cm)
180' (55 m)
750' (229 m)
24" (61 cm)
240' (73 m)
1000' (305 m)
30" (76 cm)
300' (91 m)
1250' (381 m)
36" (91 cm)
360' (110 m)
1500' (457 m)
42" (107 cm)
420' (128 m)
1750' (533 m)
48" (122 cm)
480' (146 m)
2000' (610 m)
54" (137 cm)
540' (165 m)
2250' (686 m)
60" (152 cm)
600' (183 m)
2500' (763 m)